Domeo - Romatic Magical Dome in the Catskills!
This is a Must See, One of a kind Geodesic Dome! You will love it so much, it will feel like it is forbidden! ;)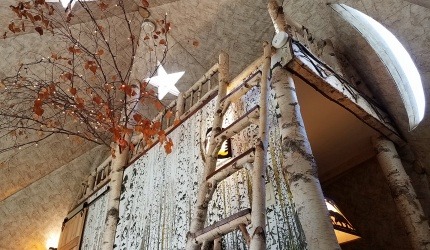 Two star skylights and moon window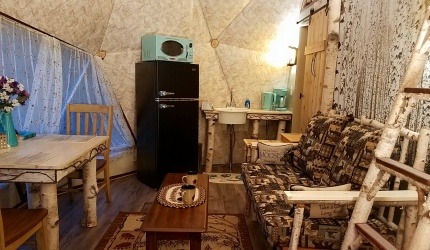 Retro style microwave and fridge, large bay window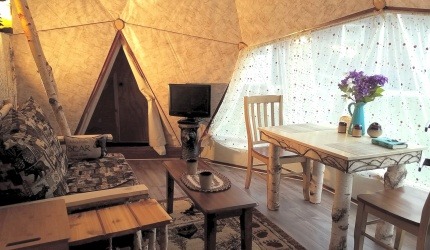 Custom built birch furniture
This is a must see geodesic glamping dome!  Beautiful birch work throughout the entire Dome.  Truly magical.   
You will love the detailed touches throughout our Domeo.  
Glamorous Camping (Glamping) experience in our back yard!
Experience the sweetest, romantic and most unique Dome in the Catskills! Right in our back yard!
Truly magical Glamorous Camping experience! (Glamping)   
Domeo has two stars for skylights, and a moon in addition to a large bay window.
Small loft with a double/full foldable mattress for sitting (when renting for 2) or additional sleep space (when renting for 4)
Ground level:  Custom built Birch Table, two chairs, bench (used for extra sitting when renting for 4, or as a coffee table when renting for 2), bedroom with 1 full/double bed.
Custom built birch love seat, custom built birch vanity/sink, retro style fridge and microwave.  Coffee maker, electric water kettle.  
Please Note: We do NOT allow any cooking inside our Dome, however you are welcome to grill and cook outside.  Inside you can use Microwave to re-heat food, coffee maker and electric water boiling kettle only.
Our Domeo has AC in the summer, heaters in the winter.
Please NOTE:  This is a tent and you are camping, please keep this in mind!  In the cold winter days temperatures might not raise above 72 degrees F, so please bring extra blanket, sweaters, etc in case you need it.
In the summer, we have an AC and it cools the Dome nicely, but again, please keep in mind you are in a tent, not a house. 
We require that heaters and AC are used on Low or Medium setting only.
Our Domeo is located in our back yard, about 20 feet from our house, and we are located in Town of Hensonville, NY (part of Windham, NY)
You are welcome to use the back yard around the dome area. Relax by the table with chairs on on the lounge chair. House, front yard etc are NOT a part of this rental.
NOTES:
We are located in Town, not in the woods, in walking distance from a diner, post office, bar etc.

Domeo has an RV / self sustained toilet. We recommend that you use public restrooms anytime you are out. The tank holds 5.3 gallons of waste total which should be more than sufficient for a 4 or 5 night stay.
There is a $25 charge each time you need to empty or exchange the tank during your stay, unless you are using it more than 3 nights. 
We will supply you with reasonable amount of RV toilet paper, which is the only thing you should use in the toilet. Please be Frugal! Please keep in mind that you are camping and not on a "City septic" setup.  No wipes or feminine products should ever be flushed.
We collect Security Deposit ($200 - varies depending on number of nights and number of guests) separately.
.
Seasons and Rates
Note: rates below include up to 2 people and are subject to change. For accurate rates please contact us with exact Dates and number of Guests.
Additional Charges:
Cleaning fee: $59/stay (or once a week for longer stays)
RV Toilet waste tank exchange: $25 each time, unless used for at least 3 nights. (Initial toilet setup is included with each booking)
Loft mattress set up as bed (when renting for two): $25 (no fee if renting for 3 or 4).
Additional guests: Additional $25 /night/person after first two (MAX 4 people total).
Minimum stay: 2 nights on weekends (one nights might be allowed on last minute bookings and during most week-nights - please inquire)
Holiday Weekends: 3 nights minimum charge. $399 (3 nights, 2 people) + cleaning fee and extra guests.
Online Reservation Fee: 5.5% . To reduce this fee, ask us how you can pay us with Google Pay.
Reviews:
Video Review Made by Melanie, one of our Guests
Air Conditioning
Basic Soap and Shampoo
Coffee Maker
Cooking Utensils
Dining Area
Dishes & Utensils
Free Parking on Premises
Freezer
Heating
Internet
Lawn/Garden/Yard
Linens Provided
Living Room
Microwave
Outdoor Grill
Porch
Refrigerator
Satellite or Cable
Smoke Detector
Television
Towels Provided
Wireless Internet
Essentials Nearby
Walking distance to Cafe,  bar, post office, grocery store, bus stop
NY-296 Hensonville/Windham, NY